Last night the Japanese student volunteers arrived in India after a long flight from Tokyo.  After a few hours rest in the Delhi Amrita Vidyalayam, began their long journey to Uttarakhand.  As soon as they stepped off the train in Dehra Dun they met by the City Magistrate Mr. Girishji, honored as official state guests and given a police escort to meet the Chief Minister of Uttarakhand, Shri Harish Rawat.
The Chief Minister spent some time interacting with all the everyone and expressed his admiration and support for the students' efforts.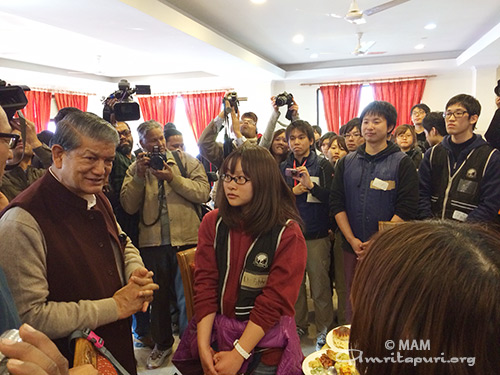 When addressing the students the Chief Minister said, "Amma is doing wonderful work and if you are with her your path in life will become clear."  He added that he would like to come meet Amma in the near future.
After the meeting the students began the final leg of their journey- the long and winding bus ride up the mountain to Chandrapuri where they will be spending the next week contributing to the relief efforts in the area.
– Gautam