The second round of Medical camps for the flood affected people in the Kashmir valley have begun.
Based on our assessment from the previous medical camps, MAM sent another huge truck load of medicines and health supplements.
On 15th November, we did a mini camp at place called Natipora where at around 300 people including children came. Health supplements like protein powder and other multivitamins were in high demand. We also distributed antibiotics, cough syrup, skin ointments, glucose and other essential supplements. Pain killers were also given to the needy.
On 16th we did a camp at Zurimanz. This was the place where we had gone few weeks back to distribute blankets. This area is not easily reachable via vehicle and hence very less help has reached here. The local people were delighted to see us back. As soon as they saw Amma's banner again, they knew it was team from Kerala. We catered to almost whole village (around 200 families) including children and we provided them with all the necessary medicines and supplements.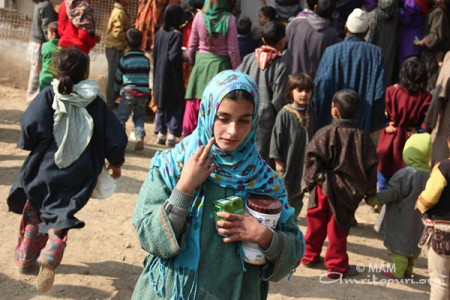 – Amit