Kulhama was where we did the medical camp on 18th November. This was our second time there. Being one of the severely flood affected area, we had decided long back that we will be sending some more medical aid to this place.
An announcement was made early in the day in the local schools. The children as well as parents were informed that special supplements will be provided for children in addition to the medicines. As soon as our team led by Dr Yavar reached there, there was a huge line up of children.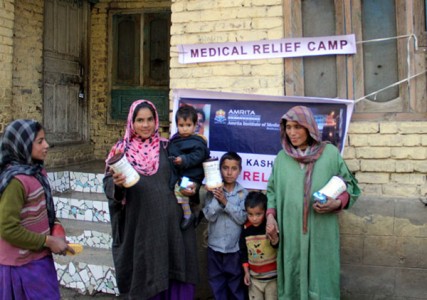 Seeing the smile on their innocent faces was quite satisfying for the whole team.
Some of the children we saw were quite malnourished. Some of the families had lost houses and some had lost their fields and hence had become jobless. Yet their attitude was quite positive. Many of them specially thanked Amma for not forgetting Her children in kashmir.
We also distributed many essential medicines including common ailments like cough, cold, body aches, skin problems etc. Multi-vitamins were also distributed to adults. More than 500 children and adults were provided with necessary medicines and supplements at Kulhama.
– Amit