One of the things that took us all by surprise often was the number of people who came to eat. Initially we started seating everybody and serving them but soon found out that this would be a fatal experience. Firstly the number of people who came to eat was a sizeable one and the people to serve them.. very few. After cooking the food in that heat and with that soggy wood, and again coming out and serving the food; carrying these huge vessels from one end to the other was a great challenge. And then getting these huge vessels washed…they were all black with thick soot on them, took more strenuous effort.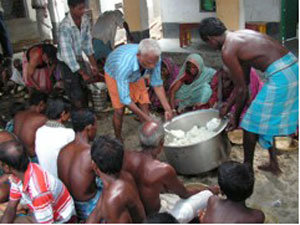 you there was no running water. It was not that you could open the tap and water would come gushing out. There were only hand pumps there and we had to pump out water for everything, from brushing our teeth to cooking and cleaning vessels. It was also an overworked hand pump as the whole village was drawing water from it. Then I slowly decided on a strategy…I called the village boys and gave them biscuit packets as wages for pumping out a certain no of buckets of water…mind you it worked quite well; when I personally attended to it.
So after serving the first meal we learnt a good lesson. The villagers made us run from one end to the other calling out for one or the other item to be served….thankfully there were only three items. They all had a great appetite as they did a lot of physical labour. Normally in the cities one kilogram of rice along with vegetables etc could be served to up to ten people. But in the village a Kg of rice could only appease the hunger of 5 people. So each of them took 4 to 5 helpings and it had to be served to them wherever they sat. So after the first meal we decided that we would serve them food only in Amritapuri style….they had to come in a line and collect their meals. Only difference was that they were given use and throw stitched leaf plates instead of the regular stainless steel ones.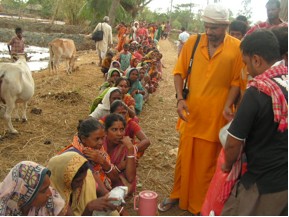 So if we thought that we had solved one problem we found that we had landed ourselves in a bigger one. The number of people coming to collect food reduced, but we still ran out of food and ended up cooking up to three times on some days. Guessed the reason! They were coming to collect food in buckets and huge containers and so it was difficult to predict the exact no of people who were eating our preparation. They would come and say any number from 2 to 15 and we had no means of verifying it. On most occasions they were collecting food for their men folk and children as the men were at work somewhere far away but sometimes we felt that they were collecting their evening meals along with the noon meals to avoid long walks at night to collect food. They would also collect meals for their children but the womenfolk and children would take a separate leaf plate and have the food there
too. It was a lot of fun watching this circus and we felt happy to feed them all they wanted. The only hitch was the wet firewood. We had taken a few gas cylinders with us; but once they were exhausted there was no way to replenish them.
Since there was no other ashramite other than me, it took me a lot more effort to keep the team motivated and so I had to always be at the helm of affairs. We had taken a lot of clothes new and used ones in good condition for men women and children. One day we decided to distribute them in Deulbari village as it was the more affected of the two. We had the people sit in a line and saw the happiness bloom in their faces as they received their share. We ran short because more and more people came and joined the line after hearing about the clothes distribution. Initially we restricted it only to the have-nots but later on could not refuse to anyone sitting in the line. We took down the names of those who have not received and promised to bring them their share of clothes soon. In the meanwhile a large quantity of relief material consisting of Tarpaulins, new clothes, medicines, etc have already been collected at the ashram which we plan to give to the neediest.
We have also contacted agencies to sink tube wells along with hand pumps fitted in the villages, having very few of them. We also contacted the government to help us in erecting rain water harvesting facility, like the one that is being done at the Kolkata centre. As it rains almost 6 months a year the villagers could get pure drinking water at least for that time. The main advantage being that this water would be free from arsenic which is quite common in this area. We experienced Amma's grace throughout and felt the love of the people for Amma, because her followers worked with so much dedication.
– Sadasiva Chaitanya