Our "Ashram" is on the main road, north of Chandripuri and directly below the hillside village of Batwadi Sonar where we are building houses. We live in two buildings about 1 km. apart which we have dubbed Ashram A and B. "Ashram A" is four small rooms on the lower level of a building that came within a meter of having it's foundation undercut and falling into the river. We have two sleeping rooms plus small kitchen and bath. A gas geezer (water heater) was brought fromDelhi for bathing. "Ashram B" is a single sleeping room at Hotel Monika, one of the few hotels in the valley to survive undamaged. Here we have wall to wall beds for four. Occasionally, a large pot of water is boiled on an outdoor wood fire for bathing.
Umesh is both our cook and works construction. He is a master in the small kitchen. Food is good, lots of chai, and a special pickle I am sure comes from south India.
The days are short, first light is at 6:30 but it is 9 am before the first sunlight hits the valley floor bringing warmth. By 4:30 pm the sun dips behind a mountain and it begins to get cold. After dinner, we go immediately to bed, crawl under heavy blankets and sleep in all of our cloths. There is no heat, so inside and outside temperature are much the same. There has been frost at night, but once the sun is up, the days are absolutely beautiful and comfortable.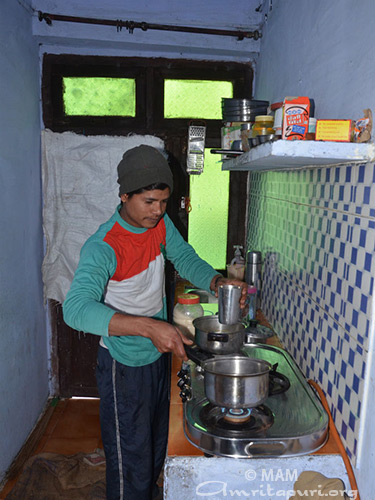 The walk between A and B is a joy at night with stars that I have never seen before. Near full moon, we can walk without a torch except for one short treacherous part. All the destruction disappears and we have only the forest around us. There is no traffic and we hear only the river and donkey bells as we pass. Villagers tell us of a leopard in the area, but so far none of us has been eaten on our walk.
We travel by bus or most often in shared jeeps that seat 12 tightly. Half of the roads are temporary dirt diversions winding up the mountainside. Each day I thank God for two things, the wonderful experience of being here and that I have not thrown up in the jeep.
Scotti