Within hours of my first day at Amritapuri (Abode of Immortal Bliss) four years ago, an immediate, warm familiarity overtook me, a déjà vu of which I had never experienced before. My whole being felt cocooned in the love that this sacred land holds. I knew then that I had arrived home – that this was exactly where I was meant to be. That feeling is just as true for me now as it was then.
It has been two years since my last sojourn to the ashram – a haven open to all and home to countless seekers. Each homecoming to this beloved oasis is beyond words. Undoubtedly, each visitor and resident will have their own way to encapsulate their unique experience here…
If I had to choose a few words, they may be all-embracing and ever-welcoming. True to the message of Her life, Amma opens Her doors (and arms) to all people of every country, religion, caste, creed, and race, as Her own. One can feel safe here, free to be – just as they are. This unconditional acceptance is truly palpable, as visitors from every corner of the globe come to taste all the ashram has to offer. Whether it be chanting in the morning, engaging in seva (selfless service), or enjoying a vegetarian meal from the canteen, all are welcome, together coexisting as one.
Likewise, there is something for everyone at Amritapuri. The ashram is healing and nourishing on all levels, offering an open space to connect with one's True Self. Here, there is infinite potential to explore and deepen along one's spiritual path, however they may choose. One is encouraged to participate in the ashram's daily schedule of archana (chanting names of the Divine), meditation, seva activities, scriptural study, and bhajans (devotional songs to express longing for God), but there is no requirement. Opportunity abounds! If one likes, they can participate in yoga classes and retreats, practice mantra japa (meditative repetition of a Divine name), observe vows of silence and fasting, attend pujas and homas (ritualistic worship, offering), participate in various workshops, receive Ayurvedic Panchakarma (ancient cleansing and rejuvenating) treatments, take a music class, etc. And the cherry on top: if there is a service that isn't offered, that would be beneficial to others, it is likely one can create the opportunity! This freedom allows for a nurturing environment to plant and cultivate the seeds of one's spiritual upliftment.
Brimming with these possibilities for growth, Amritapuri also radiates a refreshing, enchanting, and celebratory vibration, especially when Amma is present in the ashram. For me, being here is always a breath of fresh air, a reprieve from the mundane, which catalyzes a rekindled sense of purpose to live to my highest potential. As I glide into the rhythm of life here, it feels as though I am trustingly surrendering into a loved one's arms, into the womb of Mother Earth, allowing the whole of my being to unravel, to be completely enveloped in the effulgence of this blessed sanctuary.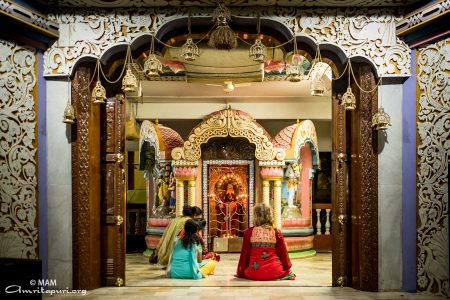 I feel my experience in Amritapuri can be likened to dip-dyeing a cloth or coloring Easter eggs. In this practice, one immerses material in a bath of colored dye, giving time for the pigment to soak in, and then hanging it to dry. With each repeated dip in the bath, the hue of the cloth becomes brighter, deeper, and richer. Similarly, I feel with each pilgrimage to Amritapuri, I am saturated in a dazzling dance of color, my devotion and intentions imbued with the inspiration and grace flowing freely here. When it is my time to leave, I will be wrung out and hung to dry in the world. Much of this coloring – as my enthusiasm and  determination for the goal – will stay, but inevitably some of it will fade with time. With hope, each dip back into this brilliant atmosphere will deepen my resolve, soak my longing yet again, and spill over, flooding my daily life and sadhana (spiritual practices) with sincerity and love.
In Amma's own words, "When a flower is ready to open, it will open." You cannot pry a rosebud open to enjoy the beautiful fragrance of the blossom. Amma offers us the perfect environment here for the lotus flowers of our hearts to bloom and grow – until the inner-Amritapuri and inner-Guru awaken within.
Aum Lokah Somastah Sukino Bhavantu
In humble gratitude,
Vinodini