This season Delhi's winters were extremely cold. But then many people like the winter. Someone told me a few days ago that these are the days when they have special types of sweets to eat and anyway there is more of an appetite in winters. But the winters are pleasant for those who have a warm home, clothes to ward off the cold and food to fill the stomach. Some don't. There are many people who live on the sidewalks, under bridges, in parks. For them the winter can be cruel. To live out in the cold, without warm clothing or even adequate food – for those unfortunate people winters can even be fatal. So Delhi AYUDH decided to help in small meaningful ways. Devi is portrayed as having a thousand hands – for it is our hands that God works through.
Sunday morning the Delhi AYUDH members gathered at the ashram in Vasant Kunj. Vegetables and other ingredients were purchased from the market, the gas stoves were set up, and the cooking vessels made ready. The vegetables were washed and chopped and the dough kneaded. None of us were regular cooks at home. But we all applied our selves and slowly puris and aloo ki subzi came into being! Creation!
We sang bhajans as we worked. The food was packed in individual packets and then we left the ashram for the distribution. Our people had already scouted some areas. Wherever we saw the needy on the roads, we stopped by and gave away the food packets and new blankets.
All the food was thus distributed in different areas under the flyovers, on roads, in streets.
At the end everyone felt very peaceful and satisfied . But the only thought in my mind was to return home and have food. I was hungry (as if others were not!)!!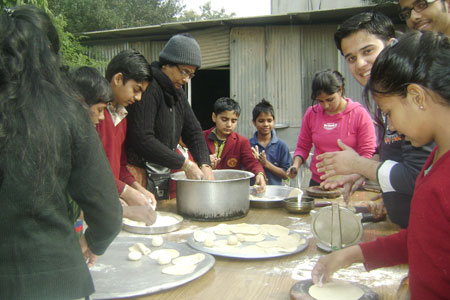 I reached home. Sat for dinner with the plate in my hands. I was about to begin eating…just then my eyes stopped at the chappati in my plate. I paused and looked at it for a few moments. I have never looked at the chappati this way before. My mind flashed back to all the scenes we had seen during the day.
People scavenging for food in trash bins. Children who did not have woolens to wear in this cold weather… in fact, they had barely any clothes on. People who did not have a hand or leg or an eye. For whom each day is a struggle to make the ends meet. Little babies crying for food but their parents helplessly looking at them. And even yelling at them to stop crying. People jostling to get one packet of food. That single packet of food meant so much to them…may be that was their only meal for the day or may be for many days to come?
And here I was sitting with a plate full of food, under a roof, with more warm clothing than was needed to protect me from the cold.
Such is the state of this world we have wrought. Where countless people go to bed on empty stomachs, thousands and thousands of people cry for food and many die of hunger each day.
We are extremely fortunate of be blessed by Amma. Amma has taken care of not just our basic needs – food, clothing and shelter, but given us a lot more. She has blessed us with respectable lives.
I have learnt to be grateful for not just food but for all that I have. Learning to shift the focus from "what I do not have" to "what I have". Now I have understood the essence of 'eat to live and not live to eat'.
Amma has been kind to us to give all that we need. It's our duty then to be responsible and do good for society in whatever way we can. Little drops of water make the mighty ocean. Our little efforts too will definitely make a difference and help to make this world a better place!
AYUDH Delhi is grateful to Amma for having given us the opportunity and strength to serve the needy and to be her helping hands!
Thank You, Amma!
Tanu for AYUDH Delhi
P.S. Over the winter months – AYUDH Delhi has distributed blankets and food many times to the poor and homeless.