17 March 2022, Budomierz, Poland
It is for the first time in my life that I got a chance to experience war at such a close distance. It was indeed some of the harsh realities of life, that I wish never existed. 
On 4th March, Rohit and I started our journey to the Polish border. When Shubhamrita Swamiji called us one day before to brief the situation, the picture I had in my mind was that there are around 40 Indian students in a hotel room in Poland, they had gone through some trauma, and needed someone to talk to. The task looked doable, even though I never did that before. Shubhamrita Swamiji confirmed that he checked with Amma if we can go to Poland border, and we have the green signal to begin our journey. We found a flight the next day, and started on our mission. Our Polish contact Marcin messaged that he will send someone to pick us up at the airport. From Krakov airport, it was nearly a 3 hours drive. Przemek, the guy who came to pick us up, told us that we were going straight to the border, Marcin arranged rooms for us there. I still kept imagining a crowd of Indian students sitting in a room, waiting for me to give some kind words. As we drove through the highway, we saw many police cars and vans going in the direction of the border. Przemek explained that the borders are tightly observed now as they expect Russian spies everywhere. Once we exited the highway, it was all countryside road for a long time with small houses on the sides. Then the houses kept reducing, it was just barren land on both the sides, with nothing in particular. Felt like a no-man's land in the middle of nowhere.
After a 3 hours of drive from the airport, we finally arrived at the hotel. Marcin greeted us with a great sense of relief. He thanked Amma over and over again for sending us to the place. He took us to the room. It is a small guest house with a shared kitchen and doorways. Two kids were playing, while their mother was cooking in the kitchen. Marcin explained that they just crossed the border two days back. The landlord is a kind man, he gave the rooms to all the refugees who needed them. We kept our luggage, and got refreshed. I asked Marcin where the Indian students are. He said many are expected to arrive soon at the border which is 2km from this hotel. We can go to the border, and be stationed there.
At this point, I realised the task is not just talking to some students, but something beyond. We moved to the border. As we arrived, we saw many white tents full of women, little children and old people. Anyone who just crossed the border, can wait in these tents till they find an accommodation, or travel organised to their respective destination. There is some hot soup, and sandwiches available. One of the tents had emergency care, with medicines, another one was full of clothes. The heated tents were all full of people, sitting in wooden benches, warming themselves from the freezing cold outside.
Marcin then took us to the checkpoint. It is nearly an 700m walk to get there. As we walked to the checkpoint, we saw many groups of refugees walking from the checkpoint towards the tents. It was -5 degrees, and 9pm at night. An old woman, a few metres away from us, was struggling to carry her bag. After some trials, she put her bag down in exhaustion. Her eyes reflected total helplessness, staring at her bags. She stood there, blinking at us. Marcin immediately talked to her in Ukranian, took her bag, and slowly assisted her to the camp. I watched her walk slowly to the camp. She is definitely more than 70 years old. The two big bags must contain all her valuables till date. And there is none to pick her up from the border. Where will she be going after she reaches the camp? Will she manage all alone? Many questions started popping up in my head.
As we walked closer to the checkpoint, we saw more and more old people, and women walking with their luggages. We didn't know any Ukrainian, but still we offered to help a few of them with our hand gestures. We didn't have any volunteer jackets. Two Indian people showing hand gestures to a bunch of refugees who just escaped a war zone didn't seem like a scaling solution. People refused to give us their bags to carry, probably because we didnt look trustable. Seeing our desperation to help, two Indian volunteers came near us and asked. 'Naattil evidunna? Malayalikal aanalle?' (where are you from India? In my native language). I nodded yes, with a big smile. The volunteers gave us a detailed overview of what is happening at the border in the past few days. 
As the war broke out, since the last week of February there has been a sudden influx of people gathering at the border. The Ukrainian/Polish border didn't really have the capacity to manage such a large number of people at once. There are no automated systems, and quite a lot of paper clearance to do. Even if people are dropped at the other side of the border in a car or a bus, they still need to wait outside for more than 6 hours to simply cross the border. They cannot move out of the line to a warm place, or else their spot is gone. We are talking about sub zero temperatures, with extreme windy weather coming from the east. And this is about the people who had the privilege to get dropped at the border in a vehicle. There are many who got there by walking for days. People from the far east have been travelling for a week to get to this border. People are fleeing from their homes, with all their belongings till date, walking for days for survival.
In the midst of this crisis, there were nearly 18000 Indian students arriving at various Polish/Hungarian borders. Some of them had to walk for 2-3 days. They were not permitted entry in the trains, as the Ukrainian police guards gave preference to the Ukrainian citizen. Indian students had to wait till night where there were no more locals to board the train. Some of them ventured to walk all the way to the border. Most of them are young students in their early twenties. Seeing the crowds of Indian students, the Ukrainian security forces even tried to run vehicles to the crowd, to scare them off and clear the border crowds. However, the Indian government did a commendable job. By the time we arrived at the border, many students already managed to cross the border, and were moved to hotel rooms in Warsaw and other nearby locations. Around 2500 students are still expected to be rescued. The Indian government already arranged nearly 80 flights to take all of them back to India.
Analysing the situation, we realised that the checkpoint seemed like an area of activity. People (of any nationality) who just crossed the border are looking for assistance either with luggages, or with some warmth, or food to eat. In a 700m walk, they have all of this arranged in a camp. But, given the harsh conditions they had to go through, even 700m looked like a long walk for most of them.
Next day, we managed to arrange a table, and also purchased some snacks and drinks. Set this up, right at the checkpoint, and offered it to people passing by. We now have the volunteer jackets, and also kept the banners of Amma, so that people build more trust, and let us help them. This checkpoint is also a spot where relatives of refugees come to wait for their loved ones crossing the border. We eventually expanded the setup by buying a tent, and a temporary water heating solution. Later, Akshay and Hridya joined us at the Polish border, after their mission at the Hungary border. This boosted our setup with gas stoves, heating facilities inside the tent etc, where people could come, and warm themselves.
One night, there came a woman in her 50s. She is waiting for her parents to cross the border. Her eyes were so filled with anxiety. We tried to calm her down, giving some hot coffee, and starting a conversation. She didn't speak English, so Marcin was translating for us. Her parents are from Donetsk, one of the far east regions currently under Russian invasion. Their house is completely bombed, but her parents managed to flee the place one day before with all their belongings. Her mother is 72, and father is 76. Everytime she made a call, her parents were crying in agony. They have been travelling for a week now. 2 days on the train, and 2 days on a bus. With some breaks in bunkers in some intermediate place. They are finally at the border. But is it more than 5 hours since they got to the border. No words could console the stress and anxiety that she was going through. We made her sit for a while in our tent, but she would get up soon, and keep staring at the checkpoint. Intensely looking at the checkpoint doorway without closing the eye-lid.
There was another mother who was waiting for her two girls stuck at the other side. The lady appeared rich, and sophisticated, she came to Poland for work. She expected a smooth journey when she arrived, with both the girls crossing the border quickly. But, she has been waiting for more than 7 hours already. She is in touch with the girls by phone, and it seems they are very cold. I suggested one can stay in the line, while the other go to the heating area and warm themselves. But she said the girls are too scared to leave each other and separate. They had no choice but to stay in the cold, and continue waiting. 
There were so many stories of such long waiting. For us, as volunteers, it is a priceless moment when we watch families uniting at the border, hugging each other, and crying their eyes out.
Another night, there was an African woman who just crossed the border and arrived at our stall. She is having 3 children with her. We smilingly offered her coffee, and some chocolates and fruits for her children. Tried to comfort her, asking how she was doing. With a great sigh of relief on her face, she said. 'I really appreciate what you all are doing. You cannot imagine the stress we had to go through till reaching this point, and feel safe. I am from Kharkiv. It was all sounds of bombs and bullets for days. My son is so scared even if he hears small sounds of things dropping down. After a really long period, you are the first ones to ask me if I am doing ok. It really matters a lot, thank you so much.' She kept thanking us a couple of more times. I remembered Amma's words -"A loving smile, a word of compassion, and a tiny act of kindness can already help people a lot." We saw her leave with tears in her eyes with her 3 children. I thanked Amma for giving this wonderful opportunity to simply be there as an instrument in Her hand.
It is incredible to see how Amma's love is reaching out to thousands of people in various ways. This is infact one of our first seva activities where Amma was directly checking the progress every single day through Shubamrita Swamiji. Our volunteering efforts would not have manifested in such a powerful way without Amma's grace. For the first few days, we had very little food to eat in the camps. Being vegetarians, we couldn't eat the meat soup in the camps. We were surviving on bread, butter, and some cup noodles. The weather was also quite extreme. Standing out in the cold for long hours (our schedule was 9am-9pm, sometimes longer) is rather unusual for me to survive personally. First 3 days, we didn't even have heating. However, I felt such a strong presence of Amma around our stall. It felt effortless to manage the situation. I was constantly reminded of Ammas darshans for long nights, offering compassionate smiles and words to people coming with longing hearts. I am sure this is the same inspiration for every volunteer supporting this effort. Every time we felt tired, there was Amma's love and energy gushing into us from somewhere, refilling us with enthusiasm and strength to move forward. She also gave constant guidance and suggestions on how to improve the service.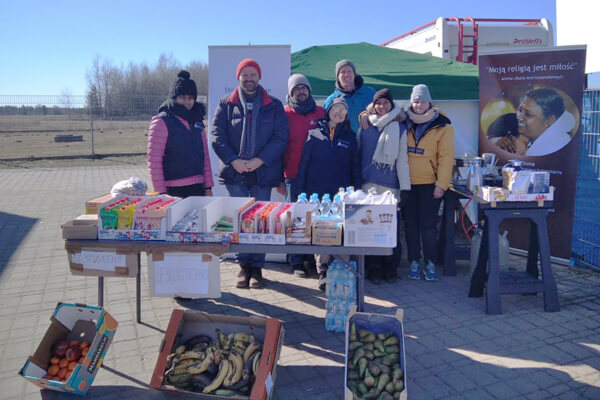 Till date, various other volunteers have joined us at different borders with Poland and Hungary. Apart from that, Amma's children in various centres are helping with organising and arranging supplies that later gets delivered at these borders. It is a blessing that we had the opportunity to do our tiny bit in supporting this massive effort.
After 9 days at the border, we finally boarded the train back to Germany. As the train crossed the Austrian border to Germany, we saw many police officers entering the train to check the documents of the passengers. Right in front of our seats, there was a middle aged Ukranian man. Police asked him for his ID. He said his bag was missing, and kept searching in the train. While he was away searching for his bag, Police found his bag on the seat, opened it, and checked the ID. Ukrainian men of 16-60 years of age are not allowed to cross the border. They have to stay back in their country and fight the war. Police caught him, and took him with them, getting out of the train. He looked perplexed, his eyes shouted for help. I stared at the scene of police taking him through the window. What is the crime he did? Is it the desire to live without war? Right to live and survive seemed like a luxury that we all take for granted. While on one hand, we talk about women empowerment and call for equality in the modern world, it is hard to digest the injustice imposed on men, when they are forced to fight a war.
At the end of the day, war is the culmination of human ego at the highest form with constant pursuit of power and domination. Words are not sufficient to describe the aftermath of destruction it creates. When I close my eyes, I still see faces of old couples walking with heavy luggages, mothers and kids left alone without a father, exhausted children, all escaping the border, literally running for survival, looking for a safe shelter. Though it is such a painful sight to remember, I also feel extremely humbled with everything God has showered on me. I have a home to sleep, food to eat, and loving friends and family.
May humankind find the strength and courage to overcome the dark times, supporting each other, may there be an end to this arrogance of human ego, may Amma's love bring solace to the aching hearts, and shine in their life giving strength to move forward. 
-SreePriya Rohit