The Project 'Amma's Acre' was blessed by Amma during her visit to the UK, first of its kind and aims to plant 800-1000 native English trees over 3 years. The project took place on the edge of Dartmoor, a National Park in Devon County, South West England.
The Amma's Acre Tree Planting weekend saw youth from various parts of the UK come together for the Love of Mother Nature over the valentine's weekend. It was a weekend wilderness experience and an expansion of our awareness with respect to nature. An experience in letting go of worldly creature comforts to spend some quality time in the simplicity of being in nature.
As a small community of youths we took shelter in a Mongolian hut in the middle of nowhere warmed by a small natural oven. A basic compost toilet hidden within a tent surrounded by sheep and snow really helped set the scene. The morning started with a nature trek exploring the land with its valleys, streams and mud ridden lanes. We walked through wooded areas, made a peace circle in heart of the land which was an open meadow. Hidden at the bottom of the valley was snow left from the previous weekend and here we had our snow fight. We all worked together in planting trees, helping to chop veggies while singing bhajans. It really was a strange other worldly experience, but one charged with spiritual energy and life.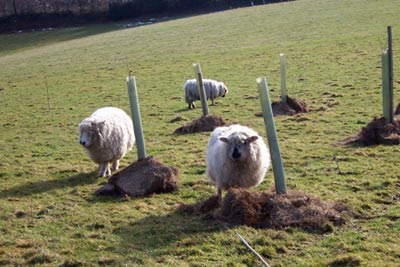 During the weekend we learnt about the lay of the land, the nature and growth of trees. The pace of life in the countryside is so much slower than the urban jungle of London and seems intertwined with nature's temperament. We planted trees in a conscious way each with their own roles to play. Some people were digging holes with spades whilst others were arranging the tree guards, sharpening stakes or mulching the base of the trees.  We always had plenty of sheep, which were running around freely on the land and kept us company throughout the day (and night). The weekend was so much more than planting trees. It was about the basics of life and simply being with and part of nature.
– Kannan