Amma says , 'we are not individual islands but a "shrinkhala",which means we are a chain linked to one another where we all need help and must strive to help each other".
The devotees of Hyderabad had the opportunity to participate in seva for the poor at Gudimalkapur, Hyderabad. The residents, almost all of them rag pickers live in abject poverty in that area. The colony is with poor sanitary conditions. One has to keep their nose covered & bodies tightened before entering the area. Open sewers & great piles of garbage greet you everywhere. The youth wing of the ashram, AYUDH Hyderabad has adopted this area & has plans to renovate this place.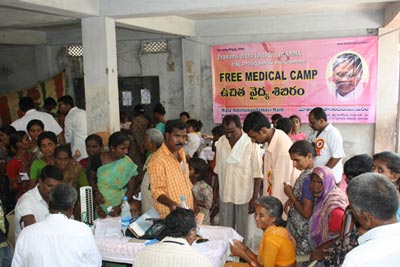 A large scale medical camp was conducted with about 25 doctors with various specializations treating the residents. A mobile medical van with a dental chair was setup & free medicine was distributed to all. The residents had queued up early & were waiting eagerly for the camp to start. The doctors & volunteers were soon busy as people kept pouring in at the camp. Eager children, most of them malnourished, even without their parents in tow had lined up to see the paediatricians. Patients needing surgery were referred to the consulting doctor's hospitals for free surgeries. The doctors had seen about 750 patients that day & the pharmacists dispatched all the necessary medicine for all of the patients.
During the camp, as Brahmachari Raghunath who coordinated the program was walking around the colony, an old couple came, they were crying. They said their sad story. They live under the care of their daughter & son who themselves are not settled well enough & struggling. This old couple were suffering severe health problems for the past many years. They thought that they were destined to suffer like this as their children cannot take them to a doctor or a hospital. They were suppressing their pain taking it as their fate. It was then, Amma's grace has come through devotees who carried them to the venue of the medical camp. They broke down emotionally when they saw the compassion of Amma which came through Her children.
As the Brahmachari continued his walk through the area another small boy of around 8 years came & hugged him. We came to know that the boy was an orphan whose parents had died 'just because of a fever', recently. The boy lives with his grandmother who herself is frail & senile. This boy was also sick & was not able to get treatment as there was no one to take him to see a doctor. It was at this time when Amma's children came with specialist doctors & medicines. The boy felt that God has sent them to him. He thanked Amma for that & asked when Amma will be visiting their colony.
Kothai
Hyderabad