6 April 2011
On the third day, we were asked to aid Otschi-Cho, in the prefecture of Iwate. An IVUSA staff member who is very experienced in disaster relief joined me and two other students. Just like Minami-Sanriku, Otsuchi-Cho seemed to have vanished.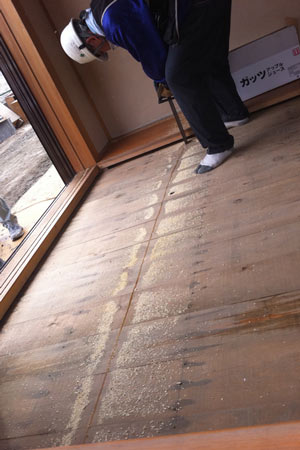 When we arrived at Otsuchi-Cho Town Assembly Hall, there were many volunteers gathered there. After getting in touch with our local contact, we were taken to our assigned house. The work was similar to that in Kawakita—sweeping dirt from house and removing furniture. The flooring also had to be ripped out, and the sludge gathered underneath the floorboards scraped away. The IVUSA expert explained that sludge not smells bad but also carries bacteria and other vectors for disease. In rural villages like these, many of the toilets don't properly flush. During the flooding, human waste is thus mixed with the flood water. This can lead to outbreaks of disease. Termites can also infest the floorboards. Unless it is dealt with now, the houses could become structurally unsound very quickly.
Another nonprofit organization had organized a Chinese restaurant to supply food for the villagers. In order to do so, a tent needed to be erected in a nearby parking lot, and volunteers were also required to cook, serve and maintain the queue. The restaurant had brought pork and sweet-bean dumplings. These were cooked onsite and served to the people still steaming. Pork miso soup was also provided.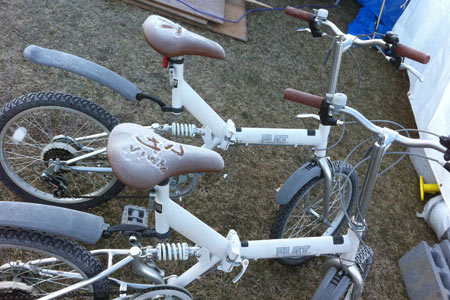 The people staying in their houses—be they whole or half-collapsed—had less access to information regarding the availability of food and other relief supplies than those staying at the refugee camps. I wanted to make sure they knew about the Chinese food being prepared for them, so I got on a collapsible bicycle I had brought with me and visited each house. I knocked on as many doors as possible, and called out in front of the houses, hoping that my efforts might allow one more person to come and avail themselves of the delicious soup and dumplings.
An old lady, bent with age, was sitting in her house all alone. When I walked up to her door, she got up and began carefully walking across the ply-board that now covered her recently stripped floor. I insisted, "Grandma, please sit down, sit down!" But in spite of what I said, she kept walking towards me. I told her, "We are making pork miso soup. Please come get it." The lady smiled delightfully and said, "Thank you very much for your trouble. Thank you so much," and bowed her head again and again, joining her hands in prayer.
At another household, a young boy, who looked like an elementary-school student, came out. I told him about the food. He excitedly called out to his mother in the back of the house, "We can get hot pork miso soup! Let's go!"
I also went over to where the people were standing in line to receive relief goods at the assembly hall. I called out: "We have pork miso soup here! Please come! It is very hot and delicious!" Many people replied to me with big voices saying, "Thank you so much, thank you so much!" and bowed to me again and again. I did not feel worthy of such appreciation. I could only leave there, bowing back to them, grinning with embarrassment. These small encounters and interactions with people brought me much joy and happiness.
A young couple was busily taking dirt out of their house in the rain. Their recently built, and once splendid, home was now tilted and half-collapsed. A flipped-over car was leaning against their wall. They were working quietly. I called out to them. They looked at me, and I could see the exhaustion on their faces.
When I told them about the food, their eyes brightened and they bowed to me and said, "Thank you for your trouble. Yes, we will be there to get some food, then." They expressed their appreciation in a Miyagi dialect, and I felt that we instantly shared something no words can explain.
When I returned to the impromptu kitchen, I saw many people lined up to get lunch. It was nice to see them satiating their hunger on the good food. Many stomachs—and hearts—were filled.
That day, for the first time since coming to the tsunami-stricken area, I broke down in tears. I have no words to describe it. I had never become so emotional as I did that day. Not even when I first saw the devastation. Perhaps it was having had so many opportunities to interact with directly with the affected people that had induced the reaction in me.
I remembered Amma's words: "Set aside your own issues for which you would ask 'Why me, why me?' and give priority to thinking about others, and their needs. There, in Otsuchi-Cho, I felt the power of this teaching. Through lending the small help I could, I received joy and happiness and touching experiences that never could have been attained through fulfilling my own selfish desires.
Those were short conversations, but everyone showed their joy without any hesitation and expressed their appreciation. Some even cheered me up. Everyone I met was very polite. They looked firmly into my eyes and gave me truly pleasant smiles, despite their terribly difficult and painful situations. I was experiencing their sorrow as my own. My heart was deeply touched by their kindnesses and strength.
As a mere individual, my ability to help others is quite limited. I sometimes become frustrated about this, thinking that I should be able to do more for them. However, in some way, by putting myself in the shoes of the disaster-affected people, I was able to share my heart with them, and this seemed to make a real impact. It didn't take much—a sincere smile, interacting with care.
I shed my tears in the rain. However, I felt somehow very warm in my heart, immersed in a feeling of wonder, as if I was being held in Amma's lap. I would give anything to help others, as one of Amma's tools, in her hand, with her compassion and love.
One more memory I would like to share. At one point, we were helping a 70-year-old lady, who lived all alone in a small one-story house. We carried out her furniture, tatami mats and other household items. We also stripped her floor, scraped off the sludge and sprinkled lime. We then made a floor frame and put plywood boards on top it. The old lady was so charming and playful. She immediately hit it off with the students. Everyone was joking and having fun. When we had completed the work, loathing to part, the volunteers took commemorative pictures and exchanged email addresses and telephone numbers. The old lady couldn't hold back her tears.
After we all got into the car and began to drive away, I watched the charming grandmother in the rearview mirror. She was smiling and waving goodbye to us. Watching her, something warm bubbled up in my heart. I watched her until she disappeared.
— Viveka