23rd September 2015
Amritavarsham'62 celebrations have started early on and the ashram is already in a festive mood.
Poet "Kalaimaamani" Andal Priyadarshini, Station Director, Head of Office, Doordarshan, Podhigai, Coimbatore came to meet Amma for the first time, shared with us her thoughts on her visit to Amritapuri and getting Amma's darshan.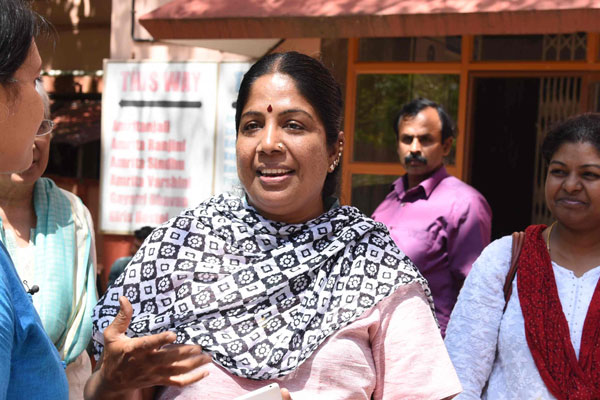 "Although I have received the Kalaimaamani Award, and many other awards and recognition for my literary creations and other works, I consider Amma affectionately addressing me as 'dear daughter, dear daughter (ente mole, ente mole, en chella magale)', the greatest award I have ever received. Today is a most sacred day for me and a blessing that life has given me.
Since morning, I have been searching for words, from within and outside all the dictionaries, but I can't find any words which satisfactorily describe Amma's greatness! No words could I find …so, I thought of talking about Amritapuri instead.
Pure Love & Motherhood
Amritapuri is the quintessence of the kural (a verse from the classic Tamil sangam literature "Thirukkural" consisting of 1330 couplets or "Kurals") "vaiyyaththul vaazhvaangu vaazhvaan vaanuraiyum theiyvaththul vaikkapadum" ("the one who lives a righteous, dutiful life in this world will be placed amongst the gods in heaven"). Until today, I have been searching for the explanation of this kural. Today, having come here, seen Amma and received Her darshan, I have realized that, more than being placed and revered amongst the gods ("vaanuraiyum deivaththul vaikkappadum"), the One who has found a place in human hearts, and abides there, is the true God.
Generally, all the god-men I have seen so far live in ivory towers, maintaining a distance from us "ordinary" people …. their attitude is "don't touch me, don't come near me, I am superior to you, the gap between us cannot be bridged at all" … their main focus would be only on projecting their own vainglory. But Amma represents simply, simply, simply pure love alone. The message Amma gives is "All are My children. Anyone can come and embrace Me, and share with Me their worries". This is a supremely unique virtue found only in a mother.
When I saw Amma embracing and blessing Her children, the only feeling I had was of seeing a mother again and again breast-feeding each and every child. I could not help but wonder "Isn't Amma, in all-white, the very embodiment of pure mother's milk?"
The Knowledge Revolution
In our country, we worship Saraswati Devi as the Goddess of Knowledge (kalvi deivam). However, the real Goddess of Knowledge that I see before my eyes is Amma only. What a "knowledge revolution (kalvi puratchi)" Amma has brought about in our society! My life is complete and overflowing with the joy, having met such a Goddess of Knowledge (kalvi deivam), a great personality that has brought about such a huge revolution, but who still lives and moves amongst us as one of us. What more can I say?!"
When asked to explain a little more about the knowledge revolution mentioned by her, Andal said "The school children who come here mostly hail from middle-class and lower middle-class families. Amma has ensured they all get education, as She feels education is very important for these children and, only if they are educated, they can serve the society better. Thus, Amma has created an opportunity for such children which She Herself did not get in her childhood. How many educational institutions Amma has started… this is the real Revolution! One can bring about thousands of industrial revolutions, blue revolutions, white revolutions etc… but Amma has proved that only a nation that brings about a "knowledge revolution" can progress…. and that is actually progress on the path of spirituality.
Apart from the above, here at Amritapuri, we can see many foreign nationals, who have left their country and are settled down here. There is no dearth of anything material in their country ….whether it be money, or the luxuries that it brings or modern technologies, they are much ahead of us in fact. Yet, some "one thing" must be amiss for them too. And, when they come here in search of that "one thing", they find it here and their lives attain completion. If we ask what that "one thing" is, it is "Amma", nothing else! It is Amma's pure love alone. What they were really missing is Amma and Her pure love.
As long as we have Amma's love, affection, compassion, blessings and grace, our nation will remain a spiritual superpower. We are realizing today that Amma's name ranks among the top echelons of great mahatmas who have made India the foremost nation in spirituality. I surrender to Amma with gratitude for giving me this great opportunity"
– Prashant