26 Sep 2011, Amritapuri
It's hard to find people who think and feel for their fellow beings. Their sense of pride limits themselves in many ways.  For instance, no one would care to  direct people to  dustbins  as they feel that it's a shame for them and it's not their responsibility. I was astonished to see a westerner who was standing next to a dustbin and directing people as per their needs; either to the dustbin or to the  food stalls.  He ensured that they got all the help that they needed.
I was curious to know about him. And after many queries, I came to know that his name was Theo and he was from the United States of America.  He was touring Asia and was very excited to be in the Ashram. He said he  travels  without a fixed schedule. And he was happy that his trip to the Ashram coincidentally happened at the time of the beloved Amma's Birthday! He was very happy to meet Amma for the first time on Amma's Birthday! He signed off by saying "Now my only plan is to get back to the ashram in December."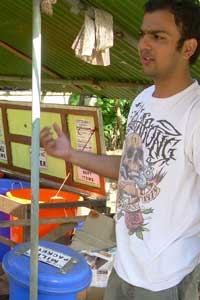 I was inspired by Theo and started roaming around the ashram to meet  people like Theo.  I saw Theo once again near the Indian canteen and I was very much surprised to see an Indian standing next to the Western canteen.  I was intrigued by the place they chose to dine!  I was curious to interrogate the Indian this time. And after shooting questions at him I found out that his name was Rahul, hailing  from Punjab, India. He is an actor in the United States and had come down for a vacation. He was very much fascinated about spirituality from his early days.  Some of his friends asked him to meet Amma and his story ends with how he came to the ashram. He strongly believes that for anything to thrive in this world, a blend of spirituality is needed  and  he learned  that from Amma. By his words  "Amma is carrying everything and everybody in this world without any discrimination" so why not me? He is very much exited about staying here for the next 4 months and to do seva for Amma's Birthday.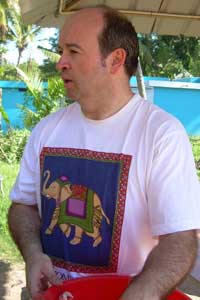 Another guy interrupted our conversation to ask something to Rahul about the cleaning process.  His name was Koldo and he had come all the way from the home of the heritage football club Barcelona, Spain.  I was waiting for the flow of words from him with the same enthusiasm when watching Messi's game..Finally he opened up and said that this was his first visit to the ashram but he knew Amma for the past four years and he met her in Barcelona. He said that he felt very comfortable and relieved while doing "seva" and found his purpose in life. Even though he has not adapted to the climate, he likes the ambiance and the love and peace in the Ashram.
After seeing the dedication that the people had in doing small jobs like taking care of proper disposal of trash, I was wondering how much they would perform when given larger responsibilities .
– Parthiban and Rahul R