Uttarakhand Flood Relief
9th July, 2013
It was raining heavily on the night of the 7th of July – the water level of the Mandakin river was rising alarmingly. We were stationed just a few feet from the raging river – even though a flood and cloud burst alert had been sounded. We tried to move towards Guptakashi but due to heavy rain the road had been washed out for a couple of hundred metres , and there was no way our Ambulance and telemedicine unit could cross that stretch. We carried all the medicine boxes on foot to the other side – with rocks continuously falling all around us.
On the way to Guptakashi, We had to stop at a place called Siddha Saur – where we were greeted by locals and offered nights stay. Upon coming to know that they have no access to medical facilities as the bridge connecting them to the nearest town (12 km away) has been washed away and the nearest medical facility at present is 48 km away (through treacherous mountain roads), we decided to conduct a camp there. The camp attracted about 200 very grateful villagers.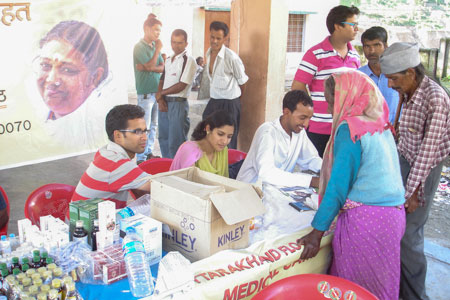 – Mukesh