An important part of Amma's rehabilitation work in Uttarakhand is the Vocational Training Program. It is off to a great start. Three centers have already been inaugurated — in Ukhimath, Gupthkashi, and Agastyamuni — and  local trainers have been hired.  Each center will offer economic empowerment through Computerized Vocational Education and Training programs (CVET) and social-democratic empowerment through Life Enrichment Education (LEE).
Fabric Painting is the first program and a batch of 20 students is underway at each center. During the first session students were asked to make a simple drawing to evaluate their skills. The results were amazing as most have done mehandi, the traditional art of painting the hands with henna. In later sessions they will learn basic color techniques and then moved on to real practical sessions.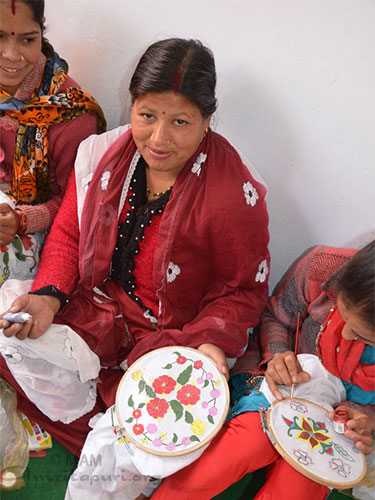 Laksmi came to an introductory session and decided the painting would be much too hard for her to learn. Persuaded to try, she is making beautiful designs after only 10 classes. More important, she has gained the self confidence to try new things.
Other classes in jewelry making, computer fundamentals, and spoken English will be offered as soon as the Hindi translations are completed.
– Scotti