This is one of the most beautiful home sites I have ever seen. A perfect view of the Himalayas rising over yellow terraced fields of mustard. Sitting alone on this beautiful plot of land will be a single house, our ninth in Batwadi Sonar. It's owners will be the Singh family, Lakhpat, his wife Manju Devi, their daughter Annu (13), and son Rohit (11). I wish that were the whole story.
The pink staircase in photo below is all that is left of their 5 room house in Chandrapuri. To the left in the photo is a brick building with a stripe of green painted across the top. They are temporarily living there in several small rooms. Since there are no cracks in the walls, it is considered safe. I have my doubts. Actually, there are many families still living in areas like this, within feet of the crumbling slope to the riverbed.
The Singh's home was not near the river. There were actually 2 or 3 more rows of homes between them and the water. All are swept away. 44 homes and 2 schools were destroyed in this 1/4 mile stretch of Chandripuri.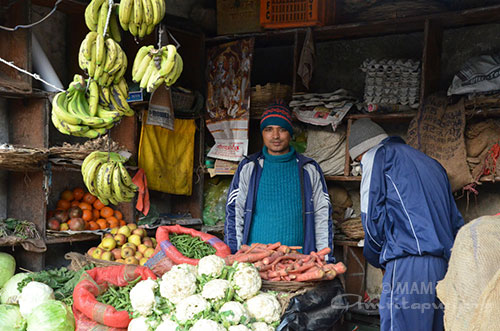 Lakhpat used to go out for work, but now, without a home, he is supporting his family with a small produce stand on the main road.
-Scotti