While some of our doctors started seeing patients in Sub district hospital, others were directed to Primary Health Center in Ashtangoo. After an hour of drive, the team went through an uphill trek. Our team of doctors started patient diagnosis and disbursing the medicines. Soon we were directed to another area in plains – Ashtangoo ghat.
When we arrived in Ashtangoo ghat, we saw a flock of people already waiting. Someone from the village offered their house for our medical camp. Soon the pharmacy table was setup for dispensing the free medicines.
None of our doctors except Dr Puneet could speak Kashmiri. But even he was struggling to speak in Kashmiri because he has been away from Kashmir for long now.
And I have to confess that though I hail from Kashmir, I too was finding it little difficult to translate things to Kashmiri. Even though most of our staff could speak hindi, not all local people could understand hindi.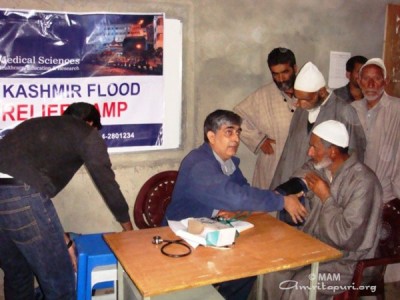 Everyone of us was putting their maximum effort in trying to communicate as best as possible. Soon some local ladies offered their help in translating. And that really helped a lot.
One of the mothers brought one small child who had a burnt leg. Soon after the first aid was applied and medicines provided, the child's crying face turned serene. More than the child, the Mother seemed happier.
In addition to our prescriptions and diagnosis, it was the caring words that were healing the wounds much more effectively. Even though initially it seemed somewhat difficult, but soon the barrier of language disappeared. The breeze of love removed the clouds of language barrier. The fact that Love knows no boundaries, just got more obvious.
Isn't it quite amazing how people from so many different countries, speaking so many different languages are able to connect to Amma just like a child connects to its mother – without any formal language!
All of us realized that our only real mother tongue is Love, and where there is love, language is not a barrier.
At the end of the day we all felt deep satisfaction in being able to light some lamps of happiness. It was drizzling, and getting colder. But inside we felt warmth of Amma's hug.
– Amit