Called the most glamorous city in the world, and famous for its sophisticated culture, residents of Paris lined up for hours to receive a quick hug from a spiritual teacher from a far away country, born in an obscure fishing village. Although many were coming for the first time, Amma didn't seem to be unknown to them, perhaps due to the wide publicity she has gotten in France, such as the film Darshan and the publicity from her 3 ashrams in France. (The largest ashram is located in view of Chartres, one hour outside of Paris.) Information on the work of ETW was much sought after and many visitors were clearly astonished by the scope of Amma's charitable work, her educational network and the amazing organization of this huge program, where people had no difficulty spending the hours waiting for darshan entertaining themselves by scanning the bookstore, eating a crepe or a masala dosa and watching one of the many video displays, on Amma and her work. Many people came up to our table expressing a strong desire to "do something", so motivated were they by hearing about Amma's wide range of charitable activities. They were equally interested in meditating and archana. Despite the many chances for socializing, the gregarious French were often seen in deep introspection, meditating on stage or on their chairs, sitting in a corner reading an Amma book or mesmerized by watching Amma give darshan on the big overhead screen.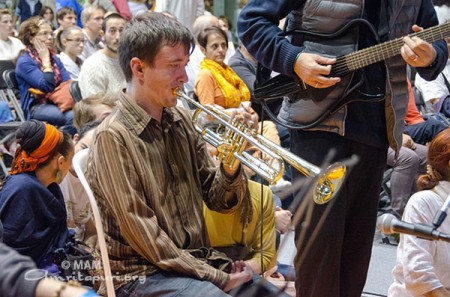 Local musicians offered a variety of musical fare and one young man was particularly noticeable. Amma often asks him to play his trumpet and gives him sweet attention. We spoke to Etienne Ravaud after his set and he graciously told us about his experiences. He was lucky to meet Amma when he was only 8 years old and always comes to her programs in France and around Europe. His parents also come every year and make delicious pizza during the program. He formerly played the clarinet and saxophone and planned a career as a music teacher. However, three years ago a hit and run driver smashed him into a wall and seriously injured him. He lost the use of his right arm and hand and could no longer play the clarinet.
We asked him if Amma had said anything to him after the accident. He said that she didn't say much, but she gave him an unforgettable look. It was a look of such compassion, love and understanding along with some other indescribable energies, that his life was transformed. He said that before the accident, he didn't think that either he or his life was worth much. But after that look he changed, and somehow had the enthusiasm and confidence to revise his life plan. He changed careers, became a computer technician and switched his instrument to the trumpet, which he could play with one hand. Despite being in chronic pain, he aims to maintain a smile on his face. In fact, this young man is like a walking satsang of Amma's teachings of enthusiasm, persistence, self-confidence, patience and experiencing the joy of life in all circumstances. Having met Amma at such a young age, we asked him if he could summarize the impact of Amma on his life. He simply said, "If it weren't for Amma being here, I would no longer be here."
A highlight of the evening program was the speech by European Commissioner for Justice, Fundamental Rights and Citizenship, Martine Reicherts. She was onstage with Amma to launch Maisons Seniors, ETW's first elder care home in Europe. She said that before meeting Amma she had struggled with how to merge her spiritual life and her life in the world as a politician. After meeting Amma, she saw that the two are not different and that she could also find a place for compassion and heart in her meteoric rise to her current position. Actress Helene De Fougerolles, a special guest at the program, also expressed her appreciation for Amma. She concluded her speech to a huge ovation by thanking Amma existing on the planet and being there in Paris.
As usual, the Paris Devi Bhava continued until late the next morning. One memorable moment among many was watching Amma give mantras to the hearing impaired. Amma was so expert in how to clearly mouth each word, like a professional teacher of the deaf, that they could clearly understand her, without the need of the interpreter in sign language standing nearby. Amma was so happy to see them, they were so happy to see Amma and receive the mantra, that the joy was palpable. Hearing impaired people are seen at Amma's programs around the world and are given special seating and arrangements to be sure they can understand Amma's satsangs, bhajans and receive her darshan.
Amma had to give rapid darshan, but at the end she spent so much time with the ceremonies, acting as if she had all the time in the world, even letting the babies play with her garland and kissing them again and again. The tireless volunteers continued cooking, cleaning, and organizing the crowd until the curtain fell. At that moment, out of the previous 25 hours, Amma had been with us for 21.5! The petal drenched crowd waited silently for Amma to emerge and smile at them one more time before walking to her camper. However, the silence was broken by a Downe's Syndrome boy who has been coming to Amma since he was a toddler. He was crying out, "Amma, dépêche toi!" (Amma, hurry up!) He couldn't bear the wait without seeing her. And so it is with Amma, no matter how much we are with her, the experience is ever fresh and we want more. Such is the nature of pure divine love.
While we waited, the organizers announced that it was Divali, a festival that celebrates the victory of light over darkness. Usually charming small clay lamps are lit to symbolize this victory, but here fire regulations did not permit this. So, it was suggested that everyone who had mobiles, use the flashlight function to symbolize the light within by showing the light without. When Amma came out, she was surprised and happy to see all the lights waving in the hall. Then she led all in chanting Lokaha samastaha sukino bavantu before leading the final chants of Mata Rani ki jai! At Amma's camper, lamps spelled out Happy Divali in Malayalam, however, happiness had a sad edge as Amma pulled away. Yet there was not time to indulge in sadness, as Amma's army of volunteers needed to go into action to pack the hall. With amazing speed and organization, as well as a lot of laughter, within an hour, the majority of the hall was packed, although it would take a few more hours to finish every detail. It can't be repeated too often how amazing it is to see the group and local volunteers arrive and the program arrangements rise up like a mushroom overnight and then dissolve 3 days later. The staff said farewell to new and old Parisian friends, packed a lunch which included pizza made by Etienne's parents and then the caravan rolled toward the canals and windmills of Holland.
Rta S.
Paris, Europe Yatra 2014