What could be more beautiful than
sitting with my guru in the cowshed,
smelling the cow dung from the floor,
sitting close and
listening to the words of my master
and eat out of her own hands.
What could be more beautiful than
sitting at the edge of the jungle by night,
with full moon,
singing bhajans with the master,
drinking chai, eating, laughing and
just marveling.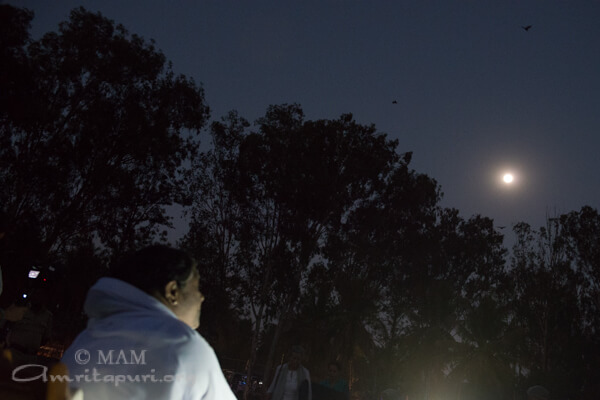 To sit under the open sky,
with a full moon next to my guru
is for me absolute beauty,
pure oneness, true unity.
I am born on a full moon and
I feel one with my guru.
These moments will be precious stones,
nobody can take from me.
I am so grateful that my guru
gives me such nice moments.
My guru , the full moon and me
The I dissolves
My guru and the full moon
The full moon dissolves
My guru
The 'my' dissolves
Guru
The one who brings us all
from darkness to eternal light.
by Nirmala (Switzerland)
Nirmala wanted to join the North India Tour. She was able to do it this year, after many years. She read these few lines during a recent lunch stop with Amma, expressing her gratitude to her guru…